I always wanted Simon to have a black coat, something a little severe, a little Matrix with a touch of military. It was fun to get out of my comfort zone and try something completely different. His elegant long legged slim body makes everything look good.
I wanted his coat to have oversized shoulders and yet keep a very sleek, slim fit. To balance out the shoulder line I figured an A-line bottom was in order, I also wanted the coat skirt to have 7 box pleats all around so it could flare out and yet lie down relatively narrow. I also added two cut pocket with wide welts, and a high collar which Simon with his long neck wears rather well. The black contrasts nicely with his pale skin and his rather intense look.




The insides of the box pleats are separate pieces cut on the straight grain. The A-line look of the skirt made it impossible to make the pleats part of the skirt pattern because the pleats would have been on the bias and harder to handle. Having them separate was certainly longer to sew but gave me great control as I topstitched the underlays catching the hem so they are very crisp.

The armhole sits where it normally would, the wide shoulder look is achieved by two knife pleats that run along the sleeve and along the armhole meething at the shoulder seam. It's a deceptively simple pattern to make but not so easy to sew. I ended up setting in the sleeve by hand to have more control. The knife pleats overlap at the cuff and are held down with chains, I made slit in the back of the cuff to help Simon pass his hands through.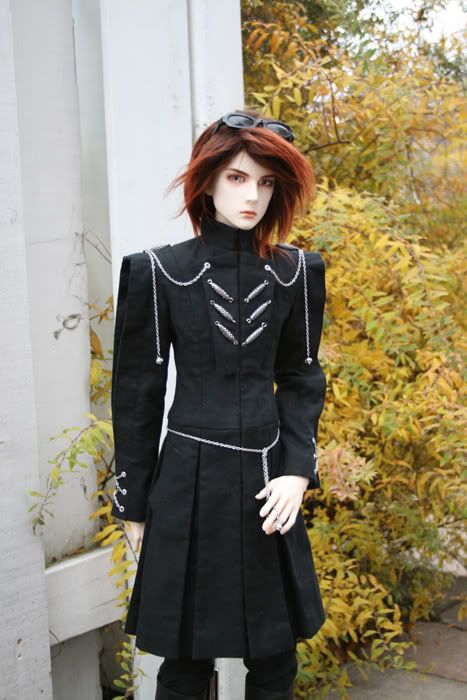 The two fronts meet at the center and the coat closes with hooks and eyes, the two folded flaps are tacked down invisibly and trimmed with brushed silver findings and chains.The coat is lined down to the waist only since the pleats made the skirt pretty much impossible to line, so all the seams of the pleats are overlocked and stitched down, and I put a bias binding around the pocket bags for a neat finish.
Simon also wears matching black pants and slim high heeled boots complete the sleek look.

I'm pretty happy with how it turned out, although I don't like the cotton I used, even though I made 3 muslins before cutting the fabric I still felt that it was better to use some black quilting cotton to sew up this new pattern.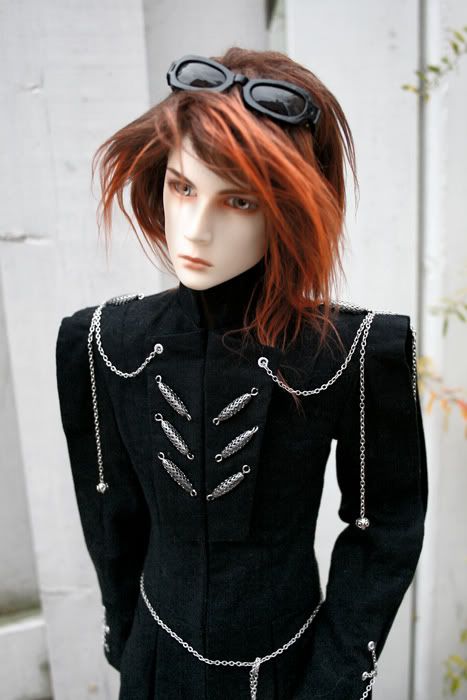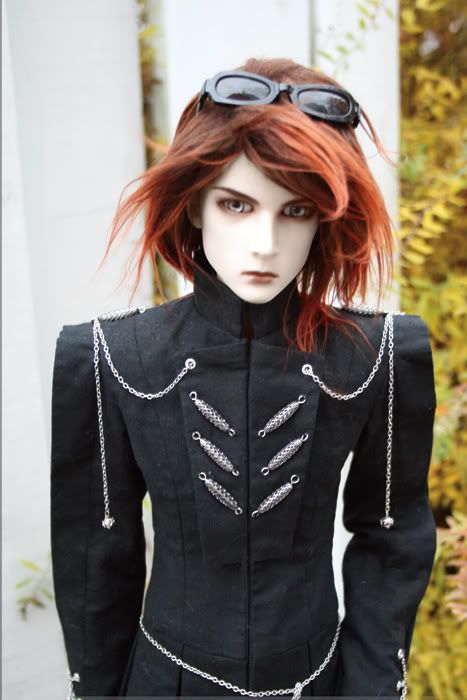 Now all Simon and I need is some sunshine so I can take better pictures. With the slow shutter speed my photos are a bit blurry. I also lightened the dark tones so you could see the details of the coat which in reality is a deep black.